Over 100 schools participated in the initiative run by TreadLightly over one week (21-27 March). Open to all childcare centres, primary and secondary schools across Australia – the winning schools will receive more than $12,000 worth of prizes comprising of shoe vouchers, sporting equipment and recycled gym mats.
TreadLightly is a new national recycling initiative that's working closely with Australia's top sporting and active lifestyle brands to recycle unwanted sports and active lifestyle shoes to give them new life as useful products like retail flooring, anti-fatigue mats, gym and playground surfaces.
TreadLightly is powered by the Australian Sporting Goods Association (ASGA) and recycler Save Our Soles (SOS).
TreadLightly is on a mission to make it easy and fun for students to learn how to reduce, reuse and recycle.
Shaun Bajada, Executive Director, ASGA says that TreadLightly has been blown away by the interest in the competition and the positive feedback from schools.
"It has been great to see so many schools get behind the initiative, coming up with their own creative ways to raise awareness and collect shoes to be recycled. We are passionate about helping children to understand the important role they can play in reducing our impact on the planet. Small steps can have a big impact when we work together," said Shaun Bajada, Executive Director, ASGA.
"We'd like to thank our brand partners for donating over $12,000 worth of prizes to our winning schools. We are proud to have the support of Australia's leading sports and active lifestyle retailers. By working as a team we will reach our goal of recycling more than one million pairs of shoes by 2023," added Bajada.
Winning Schools | TreadLightly School Recycling Drive
WINNERS
SCHOOL
SHOES COLLECTED
KGs
NATIONAL
Balnarring Primary School (VIC)
798 pairs
479
SA
Westminster Prep School
641 pairs
385
NSW
Edmund Rice College
541 pairs
324
VIC
Andersons Creek Primary School
475 pairs
285
WA
Swanbourne Primary School
263 pairs
158
TAS
St Thomas More's Catholic Primary School
145 pairs
87
QLD
St Mary of the Cross Primary School
112 pairs
67
ACT
St Francis Xavier College
68 pairs
40
NATIONAL PRIZE WINNER ($8,600 worth of prizes)
Balnarring Primary School (Balnarring, VIC)
The students at Balnarring Primary School worked together to collect 798 pairs of shoes – raising awareness by giving a short presentation on TreadLightly to each class to encourage students, parents, teachers, and the wider community to get behind the cause.
"Our school is incredibly dedicated to sustainability, and we know kids' feet grow so quickly. This was a perfect opportunity for our school to get onboard with an initiative to divert waste from landfill. Sustainability is an integral part of our curriculum and is embedded in everything that we do. The students are so passionate and are always looking for ways to care for our environment," Kate Large, Teacher, Balnarring Primary School.
STATE WINNERS ($720 worth of prizes each)
SA WINNER | Westminster Prep School (Westminster, SA)
Students at Westminster collected 641 pairs of shoes. Students, staff and families were happy to support an initiative that stopped more items going to landfill.
"The TreadLightly School Shoe Drive was an easy way for our school to be involved in a recycling initiative. We were amazed with how many shoes were donated in just one week and thank our families for their wonderful response as well as TreadLightly for the opportunity to help save our planet,' Julia Baldwin, Teacher, Westminster.
NSW WINNER | Edmund Rice College (West Wollongong, NSW)
Students at Edmund Rice College worked together to collect 541 pairs of shoes. Sustainability is essential to the College, known for their annual multi-school Sustainability Conference.
"It was exciting to see how many boys and teachers got involved. I can't recall the last time a Student Representative Council campaign was this well-received", said Marcus Stevanoski, Sustainability Prefect at Edmund Rice College.
"The TreadLightly campaign has not only boosted morale at Edmund Rice College, but it has increased house spirit, and most importantly, has the students talking about the importance of reducing, reusing and recycling," said Diane Schodde, Sustainability Facilitator, Edmund Rice College.
VIC WINNER | Andersons Creek Primary School (Warrandyte, VIC)
Andersons Creek Primary School recycled 475 pairs of shoes. Each class competed to recycle the highest number of shoes, with children dressing up in an outfit describing things they love about the earth.
"We loved the idea of matching a school full of children who are sports mad with a sustainability opportunity. We collected the shoes throughout the week, and we saw firsthand through all the boxes collected what a group of children can do to help our planet. Small steps to big things!" said Sarah Bailey, Teacher, Andersons Creek Primary School.
WA WINNER | Swanbourne Primary School (Swanbourne, WA)
Students at Swanbourne Primary school collected 263 pairs of shoes.
QLD WINNER | St Mary of the Cross Primary School (Windsor, QLD)
Students at St Mary of the Cross Primary School collected 112 pairs of shoes over one week.
"Our Mini Vinnies group organised the collection as a response to Pope Francis' appeal to care for OUR earth which includes all of creation, not just people," said Anne Cannon, School Pastoral Worker, St Mary of the Cross.
TAS WINNER | St Thomas More's Catholic Primary School (Newstead, TAS)
St Thomas More's Catholic School were amazed at how the entire school community came together to recycle 145 pairs of shoes in just one week.
"Our school participated in the TreadLightly Shoe Drive because we wanted to help limit the number of shoes that end up in landfill. As a school we thought the idea of shoes being given a new life as playground and gym flooring is a great initiative. God gave us only one Earth and it is our responsibility to help protect it in any way we can," said Jessica McLauchlan, Teacher, St Thomas More's Catholic School.
ACT WINNER | St Francis Xavier College (Florey, ACT)
The Sustainability team as well as Sustainability Captains at SFX stepped up and dug deep to collect 70 pairs of shoes in just one week.
"SFX wanted to participate in Treadlightly because we felt everyone could participate and donate shoes not only to keep them out of landfill but recycle our unwanted shoes into other useable products. We feel strongly about sustainability at SFX and want to do everything we can to look after the planet. Go team SFX!!!," Melanie Monaghan, Teacher and Sustainability Leader at St Francis Xavier College, A.C.T.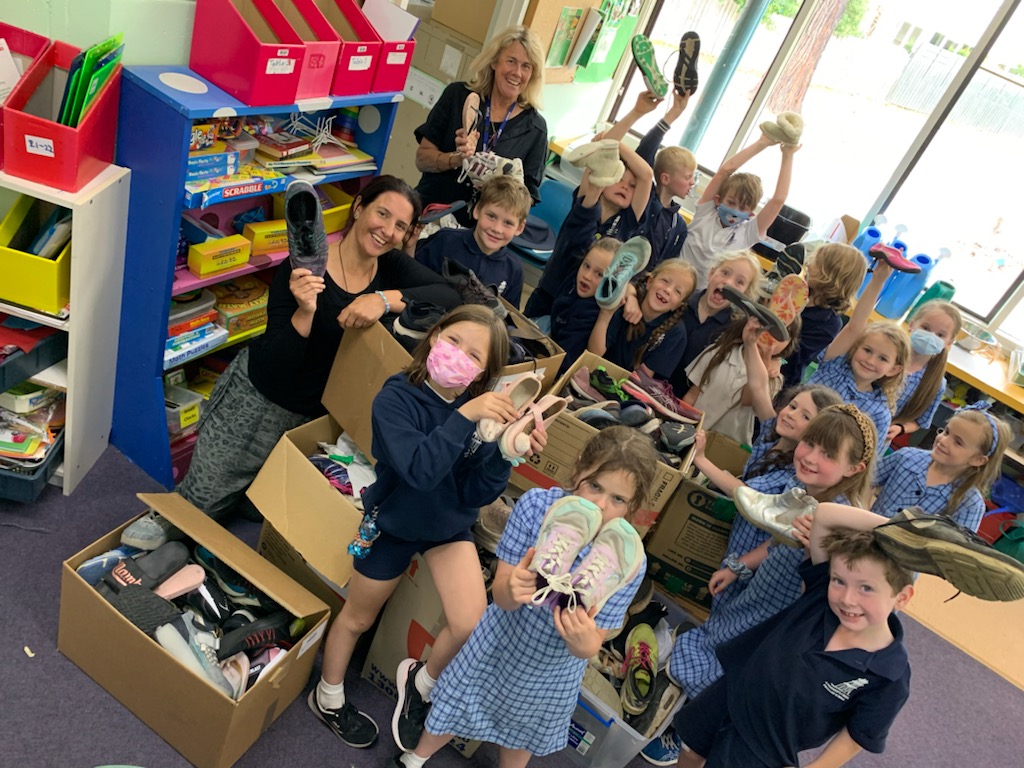 For a full list of participating sporting and active lifestyle brands visit www.treadlightly.asga.com.au